The Flaw in OpenSSL
Sarah Vouga – Waterford Technologies
For those who don't know what exactly this Heart Bleed virus or bug is, quite simply, it is a flaw in OpenSSL, the open-source encryption standard that is used by the majority of websites needed to transmit the data that users want to keep secure. Encryption works by making the data being sent look like nonsense to anyone but the intended recipient. When messaging back and forth on a secure connection, a computer will often check to see if the other computer is still available by sending a small packet of data called a "heartbeat" which is then confirmed. Heart Bleed in essence takes advantage of the OpenSSL and allows hackers to use a fake packet of data (a fake heartbeat) which tricks the computer into responding with data stored in its memory.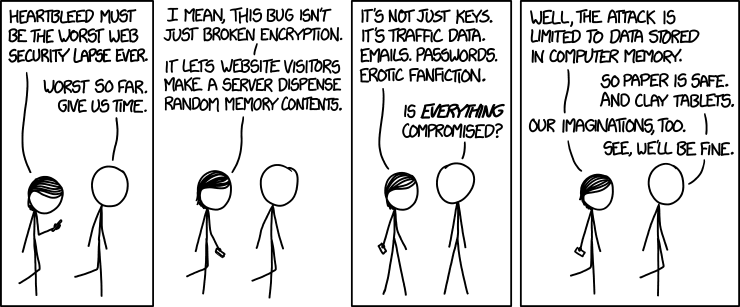 Image courtesy of XKCD
We here at Waterford Technologies felt the need to assure and reassure our customers and clients that there is no need to worry about the security of their email archiving. Our webservers do not use OpenSSL to provide services to our customers and we have confirmed the platforms and all available versions of our products are not vulnerable.  Please do not start using stone tablets as a means to protect your company's data. We promise- we have you covered and protected.
For further information on how you can keep your company's Email Archiving safe and protected, call us today!